Convert Rich Text Documents to TXT
RTF to TXT conversion is a feature of Novosoft Document Converter RTF-TO-XML. The utility provides a fast and as accurate as possible way to convert RTF to TXT format.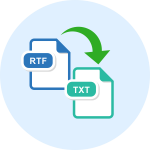 Overview of the RTF to TXT Conversion Feature
If you want to get a quick-and-dirty view of the document text, RTF to TXT converter is just what you need. It can also be useful if you want to create the smallest possible archive of document text data, or need to see it without text parameters, such as font, color, size, etc.

Converting RTF to TXT Windows or Linux file has never been easier before: all you need is just to select input document(s), specify TXT as output format, and then click "Convert".
Novosoft RTF to TXT Converter Features:
Plain ASCII text output that attempts to preserve the original appearance as closely as possible*.
High quality and speed of converting RTF to TEXT.
Comprehensible and very user-friendly interface.
Converting multiple files from RTF to TXT at once.
Multilingual support and free upgrades.
Windows 10/8/7/Vista/XP, Windows Server 2012/2008/2003 and Linux platforms.
* The formatting objects to be rendered are mapped to a user-specified grid; graphic elements (lines, borders, etc) are assigned a lower priority than text. In a resulting TXT file text overwrites any graphic element representations.
RTF to TXT conversion is performed with the help of Apache FOP processor, which is the JAVA-based print formatter. Whenever you need to convert your files from RTF to TXT format, Novosoft Document Converter RTF-TO-XML is the best choice.
How to Convert RTF to TXT
Download and install Document Converter RTF-TO-XML.
Launch the application.
Click Select to choose files for RTF to TXT conversion.
Click Browse to select output directory.
Note: By default, it will be the same folder where an original file exists.
Choose TXT as output format in the "Select output format" menu.
Click Convert to start the converting. The resulting file will be saved in the directory specified above.