Convert RTF to PDF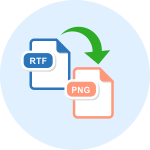 RTF to PNG conversion is a feature of Novosoft Document Converter RTF-TO-XML. This utility provides the best way to store your documents in a lossless bitmap format by converting files from RTF to PNG.
Why it is useful to convert Rich Text to PNG
There are several reasons for converting RTF to PNG. Storing data in bitmap format provides the same appearance on all platforms. RTF to PNG conversion allows copying all contents and layout from RTF to PNG file without changing the exact file appearance.
PNG was specifically designed for sharing pictures on the Internet, and that's why many people prefer this format directly. Unlike other image extensions used on the Web, PNG offers a variety of clear and understandable options and can be easily edited without data loss. Converting Rich Text to PNG has never been so simple before: just select input documents, specify PNG as output format and click "Convert".
Novosoft RTF to PNG Converter Features:
Conservation of the original appearance, including page formatting (header/footer, page/section breaks of all types, document background, footnotes, pagination), text formatting (font: size, style, weight, color; cell; paragraph: alignment, line spacing), images, etc.
High quality and speed of RTF to PNG conversion.
Сlear and very user-friendly interface, allowing to convert several files from RTF to PNG at one moment.
Multilingual support and free regular upgrades for Novosoft Document Converter RTF-TO-XML.
Windows 10/8/7/Vista/XP, Windows Server 2012/2008/2003 and Linux platforms are supported
RTF to PNG Converter produces one PNG file per page of RTF file and preserves the file appearance. In any situation you need to convert your files from RTF to PNG format, Novosoft Document Converter RTF-TO-XML will be the best solution.
How to Convert RTF to PNG
Download RTF-TO-XML Converter and install.
Launch the application.
Click "Select" to choose files for conversion.
Click Browse to select the output directory. By default it will be the same directory where the original file is located.
Choose PNG as output format in the "Select output format" menu.
Click Convert to start the conversion. The result file will be saved in the selected directory.
For more details about using RTF commands in RTF TO XML converter you can read the Converter User's Guide.
Also RTF TO XML Converter has a feature, which allows RTF to HTML format files conversion. RTF TO XML converts RTF files into many other different formats.