Convert RTF to PDF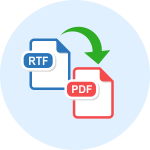 RTF to PDF conversion is a popular function of Novosoft RTF-TO-XML Document Converter. This utility provides the most accurate conversion of document contents and layout from RTF to PDF format.
Why You Need to Convert RTF Files to PDF?
Uniformity
Firstly, PDF files have the same appearance on all platforms, so RTF to PDF conversion enables you to copy all contents and layout from RTF to PDF file, preventing possible troubles with fonts, styles, etc.
Popularity
Many people prefer PDF format because of availability of viewing and modifying software for every platform in exist, including mobile devices and printing press technologies.
How to Convert RTF to PDF Using the Novosoft Document Converter?
Converting RTF to PDF has never been easier before: you just need to select input documents, specify PDF as output format and click "Convert".
Download and install Document Converter.
Launch the application.
Click Select to select files for conversion.
Click Browse to select output directory.
Note: By default it will be the same folder where the original file is located.
Choose PDF as output format in the "Select output format" menu.
Click Convert to start the converting.
The program will save the resulting file in the folder specified above. That is all!
More detailed specification on using RTF commands in RTF TO XML converter is explained in Converter User's Guide.
Novosoft RTF to PDF Converter Features
Keeping the original appearance of a document, including page formatting*
High quality and speed of converting RTF to PDF
Comprehensible and user-friendly interface, allowing simultaneous converting of multiple files
Multilingual support and free upgrades for Novosoft Document Converter RTF-TO-XML
Supporting Windows 10/8/7/Vista/XP, Windows Server 2012/2008/2003 and Linux platforms
* The original page format preserver such parameters as headers/footers, page/section breaks of all types, document background, footnotes, pagination, text format components (font size, style, weight, color; cell; paragraph alignment, line spacing), as well as links, images, etc.
A Standalone Utility
Using the RTF to PDF conversion feature requires no external programs such as Microsoft Word or Adobe Acrobat Reader to work. Whenever you need to convert your files from RTF to PDF format, Novosoft Document Converter RTF-TO-XML is your best choice.
Also RTF to HTML Converter has a feature, which allows files conversion to HTML and many other different formats.